Note: This post was originally posted on the Deep South Moms Blog, a part of SV Mom's Group that recently decided to shut down. As a result, I'm posting some stuff here that I originally contributed- with an update of course! This particular post suits Shell @ Things I Can't Say's (you're reading her right? Because she's fabulous) pour your heart out meme, as it touches on that all too-familiar feeling (you know the phrase is coming..) Mommy Guilt.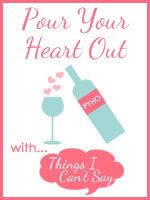 Summer is coming. I know this is inevitable every year, and I do love the warmer weather. However, all I could think about lately was last summer and the many long days I spent with my then 3 year old and 5 month old, trying to juggle activities and meet both of their needs. It was a very long summer before his preschool began. So as this summer approaches, I find myself wondering, what am I going to do with my son all summer long?
I realize this does not sound like the best statement for a stay at home mom of two to make regarding one of her children. However, last week my four year old son was home for the week from preschool for the Spring Break. I was so excited to spend the week with the two kids. I had planned adventures to the park, kid-gourmet picnics on the beach, strolls down to the marina. Yes, the three of us were going to have so much fun enjoying Spring Break.
And then reality set in.
The first day was a lot of fun. We ventured to the park and played on the swings and slides until the kids were exhausted. It was a beautiful day and we came home, tired but content. I put the kids down for their naps (at the same time, no less!) and settled into my household chores. Not more than twenty minutes later, my fourteen month old was up crying in pain, as those vicious molars are trying to push their way through her poor swollen gums. So of course, the four year old wakes up and is done with napping and is in a cranky state of mind. This sets the tone for the rest of the week. Pure chaos. Indeed, the days are long even if the years are short.
As the week drew to a close, I realized something else- summer was not far behind. I was going to be experiencing this every week, not just once in awhile. Two kids on two very different schedules, one who needs the naps and the other who is forced to be stuck at home while this happens. This was simply not going to go well. I realize people with multiple children do this all the time, but I just find myself wondering how.. because there was no way we were going to survive an entire summer by trying to find playgroup activities that suit both their ages (these do not exist, I am convinced).
Luckily, my son's preschool offers a summer program. This will be great, he will have activities suited towards his age and get to interact with other children, my daughter can still get her naps, and I can keep my sanity. However, the mommy guilt slowly creeps in to encompass me, not entirely without credit to comments  made by friends and acquaintances. What kind of stay at home mom enrolls her child in a summer program? Is it not my job to be able to take care of and entertain my children on a daily basis? What kind of failure is this?
The answer: none. My child needs regular interaction and a structured schedule. I can provide that for him but without nearly as much fun as he will have going to a summer camp of sorts, with field trips and endless activities. I decided to enroll him in the half-day option. The best part for him is that he will be surrounded by kids his own age instead of a teething toddler. And we all will still have the afternoons together. It is the best of all worlds, and once I let the mommy guilt subside, I realized it was best for him too. So, my four year old goes to his summer camp program- and we all can enjoy our summer.
**Update: Since I posted this with the Deep South Moms Blog a while back, the Summer program has since begun. My son adores it. I spent the entire first day worrying that it was going to be too much. When I picked him up, his face was shining with excitement about what was coming tomorrow. When I asked if he wanted to spend more time at home with mommy, he looked at me with pure bewilderment and said "Why mommy? I wanna come back here." Any guilt or feelings of inadequacy quickly vanished. He is thrilled and having a great time. And as my husband points out, I will have plenty of time to bond over the endless soccer practices and games that begin later this summer. Nothing like perspective to ease that Mommy Guilt.